This is not the proposed design, but an architectural rendering.
Welcome to the Centre
The facility's indicative design is over 120,000 square feet and includes two theatres and a studio space that will serve a broad variety of arts and community events. In addition, the Project includes renovation of an adjacent existing building for administration and office space for both the Kamloops Centre for the Arts Society and other resident organizations.
The facility is anticipated to include the following spaces:
Main stage theatre (~1,200 seats)
Small theatre (~450 seats)
Studio flexible space
Rehearsal, production and education spaces
Administrative spaces
Resident tenant spaces
Underground parking
Meeting rooms
Commercial space
Support and storage areas, including consideration for climate-controlled storage areas
Building systems
Proposed Location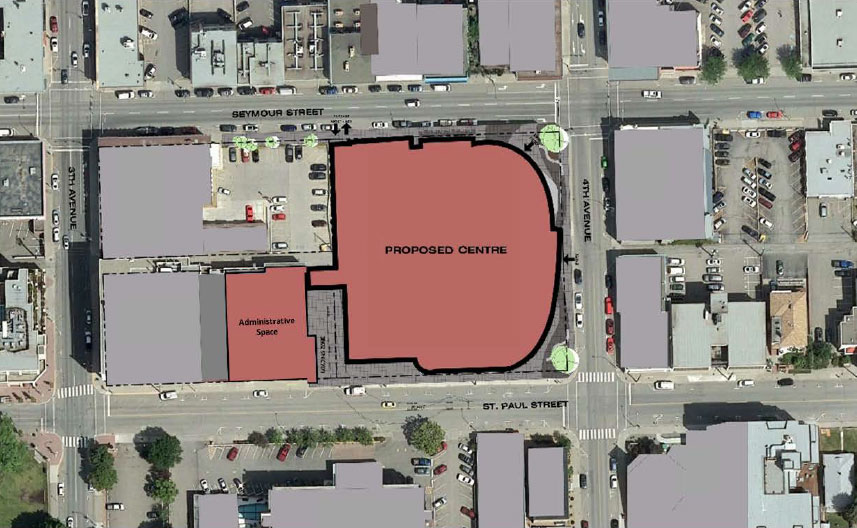 Located in the downtown at 4th Avenue and Seymour, the Centre will contribute to downtown revitalization by promoting economic and population growth and contributing to a vibrant arts and cultural community in our city. The site has been identified as the preferred location for the Centre for a variety of reasons including: downtown location available for development; a sufficient size to meet the functional needs of the Centre; and current ownership by the City which enhances the degree of control in acquiring, servicing, and developing the site in alignment with Project-schedule needs. Additionally, the purchase of an adjacent building by Ron and Rae Fawcett will provide much-needed space for administrative and storage purposes without compromising the size of the community, event and performance spaces.
We Need Your SupportTo Make this Vision a Reality
We are building our membership to raise awareness, keep the community informed of our progress and ultimately to demonstrate community support for this project.
By joining the KCA Society as a member, you will receive project updates, have access to volunteer opportunities and belong to a group that cares about the future of arts and culture in Kamloops.
Become a Member Today
© Copyright 2023 Kamloops Centre for the Arts Society